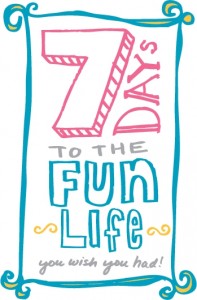 It's time to remember what FUN is!
It's time to get your joyful, happy, bright, sparkly, fun self back.
It's also time to live a life you are excited about.
The Fun Activator will help you exhale, kick-back and enjoy your life every day. Not just on weekends.
It's perfect for you if you struggle with…
not knowing what fun even means anymore
you feel heavy, like one big to-do list and are burned out
your life looks nothing like you'd hoped, and you wonder how the hell you got here.
The 7 Day Fun Challenge will help you make fun a part of your every day life.
It's perfect for you if you struggle with…
identifying what taking care of yourself, enjoying your life and having fun looks like for you
how to incorporate enjoyable and fun activities into your daily life
not knowing what steps you need to take to make fun and enjoyment a permanent change
The Fun Activator and The 7 Day Fun Challenge are available to you for FREE in the Big Fun Tool Kit.
You'll also be subscribed to my email newsletter. You can unsubscribe at any time.